Office 365: Remote wiping of a mobile device
If you are using the Office 365 service on a mobile device, it probably saves confidential information in the device, such as personal data. If your phone gets lost or stolen, you must immediately remove all information from the device. You can easily do it with the remote wiping function which restores the factory settings of your device. This means that the service completely removes all data in the device, and nothing can be restored from the device after that.
This service is available in all smart devices. Also device-specific monitoring services requiring registration are available. Read the instructions on the website of the device.
Tabs
Links to the services of the most commonly used devices:
Log in to OWA (Outlook Web App)
Find the mobile device settings in the settings (cog icon) searching for mobile.
You will see a list of the devices in which you are logged in to Office 365.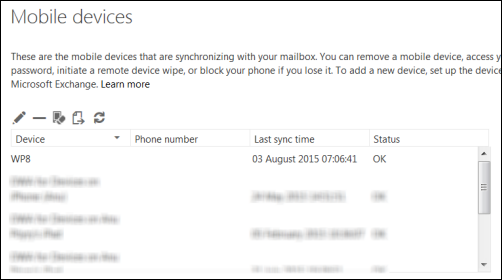 Select the device which you want to wipe and click the selected icon.

OWA asks whether you are sure that you want to wipe the device remotely.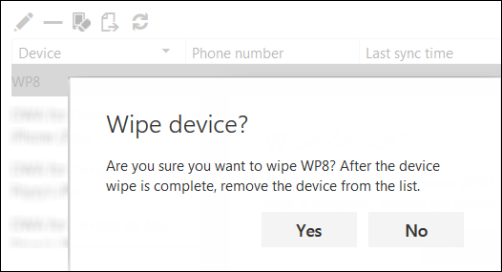 After this, you can monitor the status of the device in the device list:

You will get an e-mail once the remote connection to the device has been established and the wiping has been started.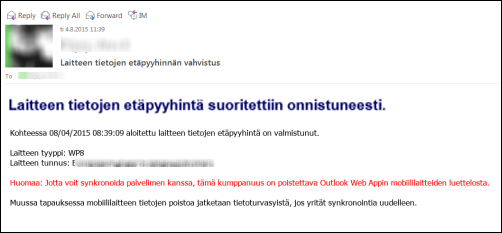 When the wiping is complete, the status in OWA is as follows:

Factory settings have now been restored in the device, and the device is no longer connected to Office 365.
When the wiping is complete, you can remove the device from the list.
Notes
If your device is not in the list, it has not been specified with ActiveSync. This means that you cannot wipe the device data using this method. In such a case, consult the instructions of the device.
Remote wiping of the phone cannot be done if the phone has power saving activated, for example, as some network settings may not function in this case.
Links to the services of the most commonly used devices: