Video conferencing facilities maintained by the University of Helsinki IT Center
Open to all faculty, staff and students:
Kumpula Exactum A114, Gustaf Hällströmin katu 2b
City centre Aleksandria K132, Fabianinkatu 28
The user must personally book a telepresence facility from the O365 calendar.
See Flamma for more detailed contact details of the facilities and the booking situation. Links to O365 calendar are in Flamma.
Before the video conference
As the event organizer, it is your responsibility to decide the means of contact with the remote location and, if needed, to schedule a test conference with the remote location well in advance of the actual event.
If you wish to set the conference to begin automatically at a given time, you need to provide the University of Helsinki video communications staff (atk-videoneuvottelu[at]helsinki.fi) with the contact information of the remote location no later than three days before the conference.
Tabs
Using the video conference facitilities
You can access the IT Center's video conference rooms by contacting the doorman at the premises. We kindly ask you to refrain from reorganizing the equipment and furniture in the premises.
If the video conference is timed to commence automatically, or if the remote location has agreed to create the connection, the only thing you need to do once the conference is about to begin is to use the remote control to target the camera image in the desired position and turn on the microphones according to the instructions hanging on the wall. NB! By default, the conference microphones are always turned off when the conference starts.
A desktop PC is available in the room if you wish to display additional materials either locally or to the remote location via the conference connection. You will also find a HDMI video cable if you wish to connect your own computer.
When the meeting is over, it is your responsibility to make sure that the room is as tidy as it was before your video conference started.
Please don't shut down the video conference devices when your meeting is over! Shutting them down may cause unnecessary trouble for the next conference.
Instructions for using the remote controller
New remote control device
cisco-user-guide.pdf
Old remote control device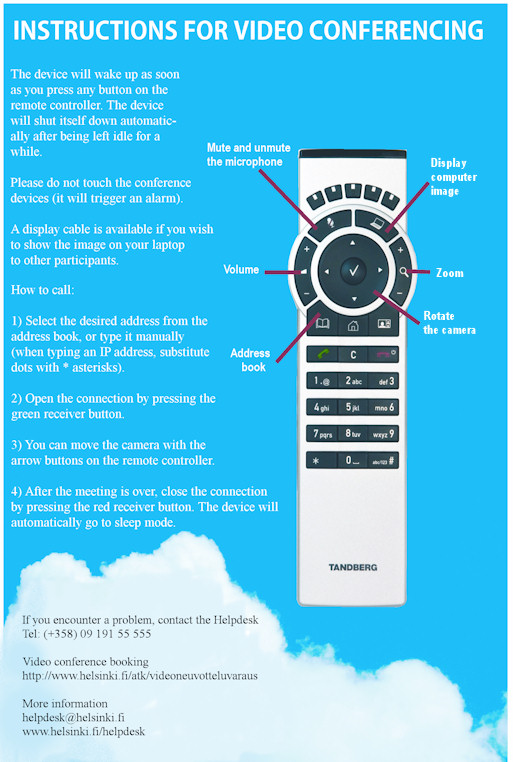 kaukosaadin_en.pdf