Network printers and their settings on university Mac
Print queues to SmartCard multi-function printers are automatically installed on centrally administered Mac computers. Other network printers are installed with a simple wizard.
Tabs
Printing with a SmartCard multi-function printer
Select the printing function in the software from which you want to print and select "SMARTCARD-PS on PINEWOOD1" or "SMARTCARD-PS on SPRUCE1" as the printer. If you cannot see any printers, select the HY menu in the menu bar and select Managed Software Center > Updates to check any updates.
Go to the printer equipped with a SmartCard reader, place the ID card on the card reader and wait for instructions displayed on the printer's screen. The SmartCard devices are marked with a card reader label.
Other network printers
If you are using a network printer other than a SmartCard printer, it must be added as a print queue in the Mac.
Select the HY menu in the menu bar and select HY Install Printers.
Enter the printer's serial number (found on a red and white sticker on the side of the printer) or the printer's location, such as Haartmaninkatu 3, in the search field

Click on the printer's name and in the right-hand side bottom corner click Add Printer.

You will receive a confirmation that the installation succeeded.

Finally, select the default printer among the printers installed on the Mac. In the Apple menu, select System Preferences -> Print & Scan. In the Defalt Printer menu, select the printer you plan to use the most.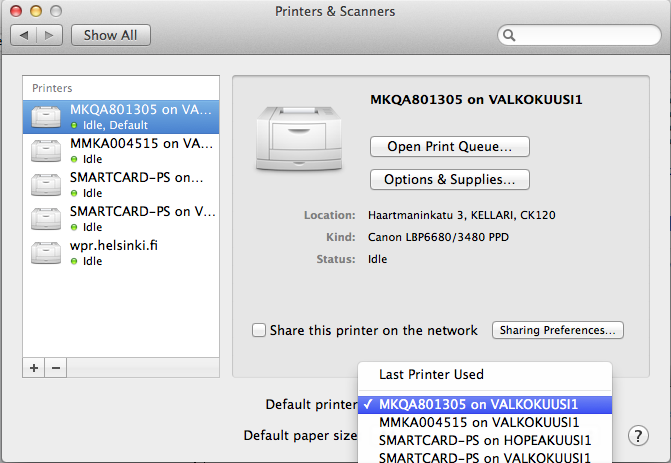 Print settings (colour and double-sided printing)
After adjusting the print presets, you can use both colour and double-sided printing if the printer enables such features.
The settings can be adjusted in the printing window of any software, but the example here uses TextEdit. After saving the settings, you can use them in other programs as well.
Save the settings as follows:
In the example, the user saves double-sided colour printing. You can also create other settings you need, such as single-sided colour, black-and-white double-sided, landscape printing.
1. Open the printing settings in e.g. TextEdit; select File  > Print...
2. This opens a window you can expand by selecting Show Details.
3. Click on the drop-down menu with the name of the software (e.g. TextEdit) or, in some cases, Layout (e.g. in Chrome).
4. Select Printer features. In the new menu that opens, select Feature sets and Color. In Color Mode, select Color.
5.Tick Two-sided.
6. In the Presets menu, select Save current settings as preset…
e.g. naming it "Colour print, double-sided". Remember to select All printers to ensure the settings will work with other printers as well (those enabling double-sided printing).
NOTE! You can also place several presets, such as one-sided colour printing, double-sided black-and-white printing of, for example, landscape by adjusting the aforementioned settings.