Using the VPN connection on Pulse Secure with your own Mac
It is possible to form an encrypted remote connection from outside the university to the servers of the University of Helsinki. A VPN connection is also useful in HUPnet and other unencrypted networks. If you wish to access your home directory (i.e. the Z drive) from your home computer, first act according to these instructions and then open the instructions for connecting the home and group directory to Mac.
Tabs
Forming an encrypted connection
Install the Pulse Secure connection software from the Download Centre.
After installation, start Pulse Secure in the Applications folder.
Add the connection address by clicking the plusbutton. In the Name field, type HY-VPN, for example, and in the Address field, type https://www.vpn.helsinki.fi/vpnstaff (staff) or https://www.vpn.helsinki.fi/vpnstudent (students).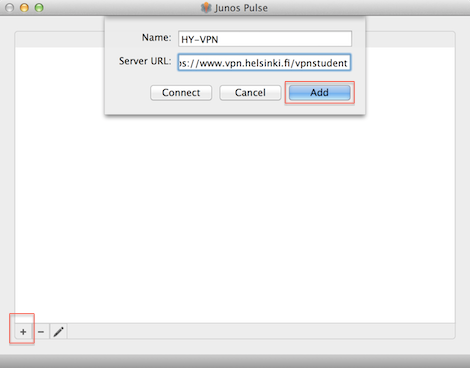 In the future, you can open the connection by clicking the Pulse Secure icon to the left of the clock on the menu bar and choosing HY-VPN -> Connect. If the icon is not shown, start Pulse Secure in the Applications folder.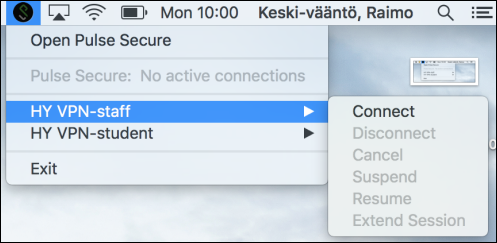 Pulse Secure asks for the university username and password. Click Connect.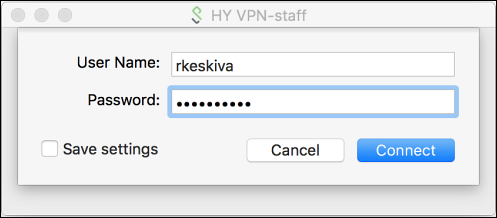 To disconnect, use the Pulse Secure icon on the menu bar and click VPN -> Disconnect.