VPN portal as a proxy serv
Tabs
Log in to the VPN portal at https://www.vpn.helsinki.fi
Enter the address in the address field. This example uses the Merck index http://themerckindex.cambridgesoft.com/themerckindex/Forms/Home/
ContentArea/Home.aspx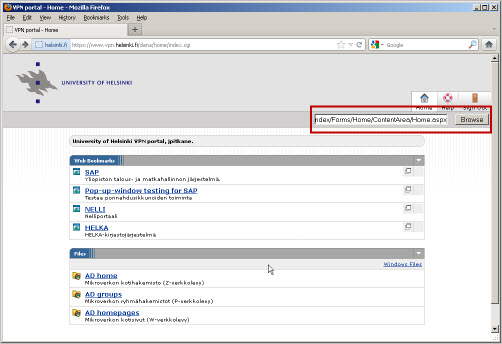 Click Browse. The browser goes to the Merck index site.
You can save the address into the browser's bookmarks for later use.

You can then use the bookmark just like any other bookmark. If you are not logged in to the VPN portal, the browser first directs you to the login page and then to the desired service.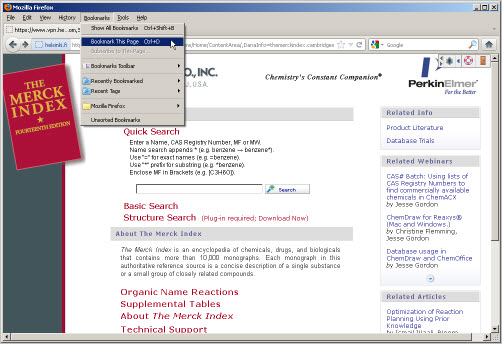 The default name is https://www.vpn.helsinki.fi/themerckindex/Forms/Home/ContentArea/,
DanaInfo=themerckindex.cambridgesoft.com,SSO=U+Home.aspx
You can change this into a more descriptive name.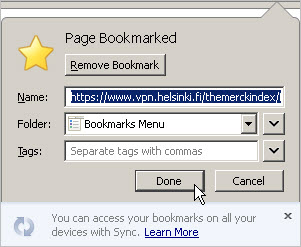 Navigation in the VPN portal
The top right corner of the browser shows the icons needed for navigating in the VPN portal: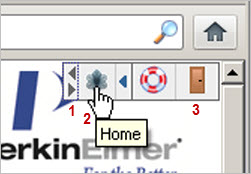 (1) toggles the location of the navigation bar between the right and the left side.
(2) return to the VPN portal home page.
(3) log out of the VPN portal.
NOTE: Remember to log out of the service. Just closing the browser leaves the VPN session open and you may get the following notification when you use the service again: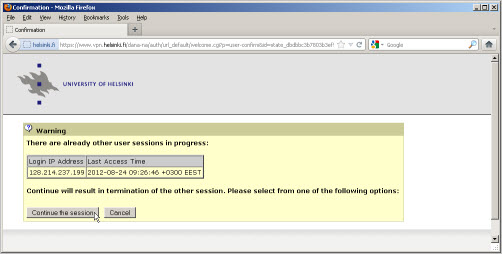 Click Continue the session. The old session is closed and a new one is opened.