Connecting to and using the HUPnet network
Tabs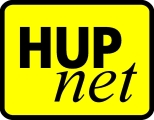 Connecting
Logging in
Start your internet browser.
If the browser cannot find a web page, go to your default home page.
The browser will be directed to the HUPnet login page.
Enter your login and password for the university computer network (AD).
If the connection is successful, the browser will inform you of the connection being open.
The connection is open for as long as the computer is connected to HUPnet.
When using an HY-VPN connection, no separate login is needed. See Connections from outside the university > separate instructions.
Restrictions in traffic
HUPnet only uses IP as its protocol, so more unusual protocols will not work. All connections are masked behind a single net address, so the computers on HUPnet will be unreachable from outside. This may cause problems with some special connections, such as video conferencing and using the MS messenger, but using FTP and Netmeeting programs, for instance, will work normally. Unprotected connections (such as telnet, POP) are forbidden on the university network.