Internet Explorer 11 - Enterprise Mode
Internet Explorer 11 includes the opportunity to use the browser in the so-called Enterprise Mode which allows the use of old web applications. At the university, such applications requiring a compatibility mode include, for example, Talous SAP, SAP HR (also when used over the VPN portal) as well as the hardware register, the group directory administration tool and Altiris SD.
If an application which has previously worked in Internet Explorer no longer works in Internet Explorer 11 or if there are problems with it, you can use it in the Enterprise Mode compatibility mode.
Tabs
Start using this mode as follows:
Open Internet Explorer 11.
Press the ALT key. A toolbar appears at the top of the browser.
Open the Tools menu and choose Enterprise Mode.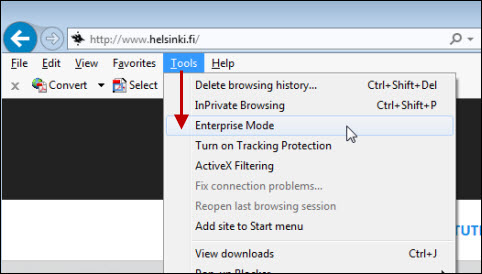 When Enterprise Mode is active, the following icon shows at the beginning of Internet Explorer's address bar:

If you want to switch off the Enterprise Mode, you have to be on exactly the same page as where you were when you enabled the mode: E.g., www.page.fi and www.page.fi/frontpage are different pages even if they have the same content.
See the Microsoft site for more information