HY-VPN installation (Windows)
These instructions apply only to the home computers! The university computers use the Pulse Secure software for the same purpose.
Pulse Secure is also available for the home computers and devices.
Tabs
Necessary installation packages
Retrieve the OpenVPN package on www.openvpn.net/index.php/open-source/downloads.html
Select the Windows installer package according to your operating system
Save the OpenVPN package on your computer
Find the settings file which contains the settings and verification needed for the university connection
Select "PROGRAMS" in the top bar
find the folder HY-VPN
open the Windows folder
Save hy-vpn-windows.7z on your computer
For instructions on using compressed zip or 7z files, go to instructions
Installing an OpenVPN package
Double-click the installation package to start the installation process.


 

Select Next to start the installation


 

Read the terms and conditions and accept them by selecting I Agree.
If you do not accept the licence, you cannot install or use the OpenVPN product.


 

Select the components to be installed. NB! It is recommended to use the default settings
Select Next to continue


 

Accept the suggested installation directory. If you change the installation directory, the installation of the settings files may be unsuccessful.
Select Install to start the installation


 

The installation view displays the progress of the installation


 

Select Install to accept the installation of a virtual network interface card. Without this, the OpenVPN will not work.

Installation continues after acceptance.
Finally, select Next


 

You will be notified when the installation is complete. Select Finish.
 
Installing the hy-vpn.exe settings file
NB! The installation is carried out slightly differently in the different versions of the Windows operating system.
Windows 8, 7 and Vista:
The settings file installation must be done with administration rights.

Open the folder containing the configuration file hy-vpn.ex

Right-click the file and select Run as Administrator (Suorita järjestelmänvalvojana).

Follow the instructions of the installation software. When the installation is finished, the necessary configuration files have been installed in the correct folders.
Error situations
The installation software should be able to correctly identify 32- and 64-bit computers. If the software does not work correctly after the installation, make sure the files hy.ovpn and HY-vpn-CA.pem are in the correct folders:
64-bit Windows: \Program Files\OpenVpn\Config
32-bit Windows: \Program Files(x86)\OpenVpn\Config
In practice, all new computers are 64-bit. You can check this by opening the Start menu and right-clicking Computer > Properties.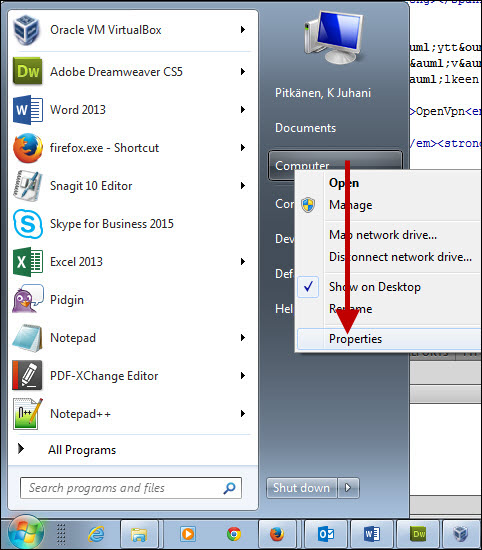 You can see which version is used in your computer in the section System type.