How to contact Helpdesk
We offer service in Finnish, Swedish and English. You can see Helpdesk's service hours at the bottom of each page.
Tabs
You can contact Helpdesk as follows:
Use phone or chat to contact a Helpdesk agent directly for immediate assistance even in urgent matters. If the matter is not that urgent, send a support request by e-mail or through the university menu.
University menu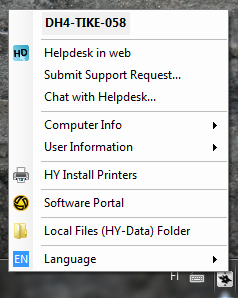 All centrally maintained computers have the university menu marked with the university logo. The image shows a Windows computer. There may be minor functional differences in Mac and Cubbli (Linux) menus.
Use the university menu to contact an agent via chat (Chat with Helpdesk) or to send a support request (Submit Support Request).
The university menu provides quick access to central information related to your computer and user account. If the location information of your computer is incorrect, for example, let Helpdesk know the correct information.
More information about University menu
Chat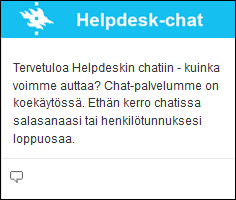 All Helpdesk site pages open a chat window. Use it to ask quick questions related to information technology.
Note: Chat only opens when there are agents available.
The chat gives you a direct contact with a Helpdesk agent. Chat talks are based on your user account. Please don't tell your password or the identifier part of your personal identity code.
Contact by phone
In urgent matters the preferred contact method is always to call us at 02 941 55555. You can switch to service in English by dialing 9, and in Swedish by dialing 7.
Contact by e-mail
You can send your support request in the address helpdesk@helsinki.fi.
Please include the following information in your message:
Your user account
Is the computer a university-owned machine or your own?
the name of your computer, If it is a university machine. You can also copy the relevant computer information from the university menu.
Your contact information, and when we can contact you
Your precise description of the issue together with any error messages you may have received
If your problem is related to printing, the serial number which reads on a sticker on the printer
If applicable, the date by which the problem must be solved